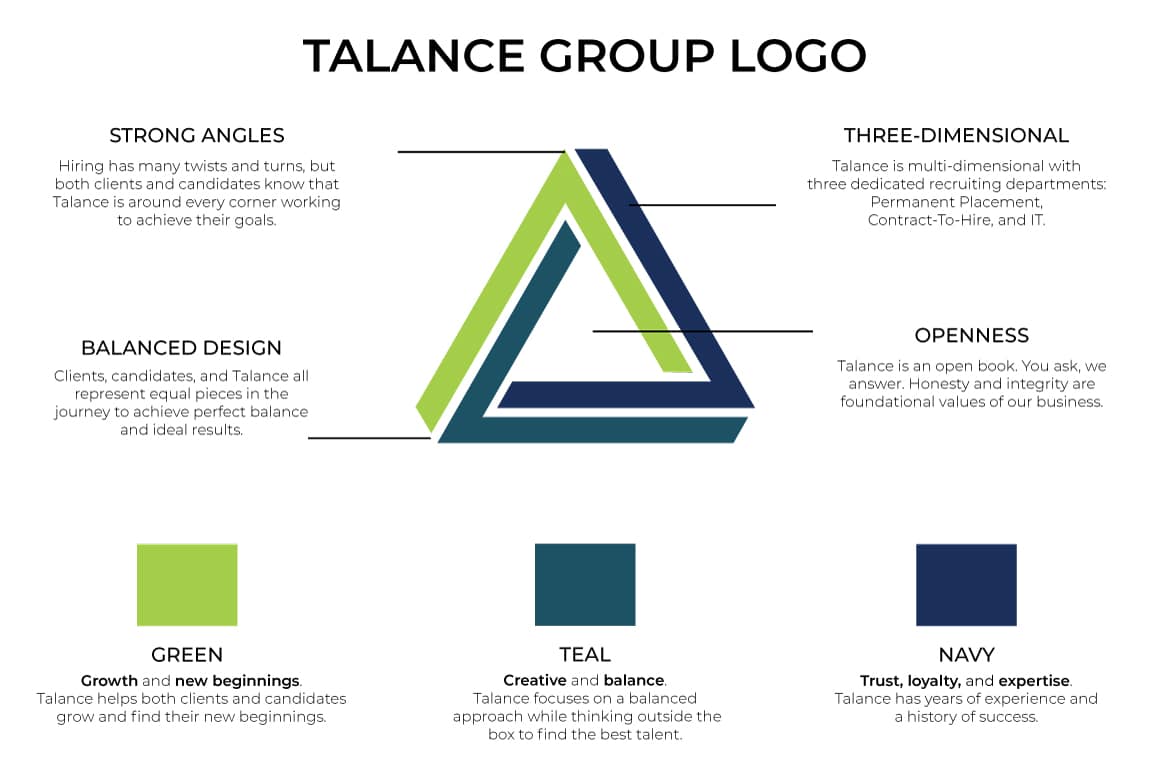 When we were redesigning the new Talance Group logo, we wanted an updated design and brand that reflected not only our company, but the valuable relationships we have with each candidate and client.
Design
The four key areas of the Talance logo outlined above were very intentional:
Strong angles—Clients, candidates and hiring managers know you get thrown curveballs when hiring. The angles in the logo represent the reliability of Talance—when you turn a corner into the unknown, we are always there to help. We truly want to be the agency you can rely on through the entire hiring process.
Three-Dimensional—Talance Group has three distinct departments that work with a number of industries. The relationship of permanent placement, contract-to-hire and IT is symbiotic as they work together to achieve client and candidate goals.
Balanced Design—The cohesive relationship of client, candidate and Talance Group is crucial to total success. This strong, balanced bond helps us deliver results and become the trusted advisor for both sides.
Openness—You ask, and we answer. Talance Group is a transparent organization that is dedicated to providing honest answers about the recruiting industry.
Color
The Talance Group brand has been in Houston for over a decade and we wanted to keep the color palette consistent:
Green – Growth and new beginnings are represented by our green. We want to help clients and candidates achieve their dreams.
Teal – A blended combination of green and blue, the teal represents our ability to balance multiple goals and objectives while thinking creatively to achieve the vision of both the client and candidate.
Navy – One of the strongest and most foundational colors, our navy showcases our experience, trust and dedication we bring to each project.